From the bustling streets, bright lights, and fast-paced environment, there's so much to love about city life. However, the older you get, the more your priorities may start to shift; you might want to escape the glittering city for a more relaxed vibe by living in a suburb.

In a neighborhood community, you can meet like-minded individuals, become more involved in your community, get outside more, and settle down to start a family. Luckily for you, Chicago has a great variety of suburbs surrounding downtown, meaning you're sure to find the home and neighborhood that best fits your lifestyle.

Live in one of the biggest suburbs to keep the downtown feel alive, or move away to a college-like area where you'll enjoy a small-town vibe and a close-knit community. Chicago suburbs have everything you could need and more. With a short drive away from the city, you also don't sacrifice time downtown with friends when you move.

Suburb living allows you to keep everything you loved about downtown life while making space for your new lifestyle with a bigger space and a more relaxed environment at the end of the night. If you're looking for some of the best Chicago suburbs to move to, consider the five listed below when searching for your dream suburb home.
Downers Grove

A popular neighborhood for Chicago commuters, Downers Grove features three convenient Metro BNSF stations and easy access to major highways. The suburb itself is home to some major businesses, including the Dover Corporation and Advocate Aurora Health, and there are also satellite offices for Microsoft, State Farm, and MetLife. Downers Grove is an excellent place to both live and work if you want to be out of the hustle and bustle of the city.

The suburb is known for the popular Ogden Avenue, which is lined with retail shops, car dealerships for new and classic automobiles, and grocery stores. Shoppers can get all their errands done at Trader Joe's, Walgreens, CVS, the Fresh Thyme Farmers' Market, and more! Designated a Tree City USA by the National Arbor Day Foundation, Downers Grove is filled with green space and parks. Residents can enjoy membership at the Downers Grove Golf Club, walk through 150 acres of scenery at the Lyman Woods Nature Center, or explore local history at the Downers Grove Museum.

Throughout the year, the Downers Grove community comes together at events like antique car shows, farmers' markets, and a wintertime ice sculpture festival. Sporting events and band concerts at the local high schools are also popular local events, particularly football games between rival schools Downers Grove North and Downers Grove South High School.
La Grange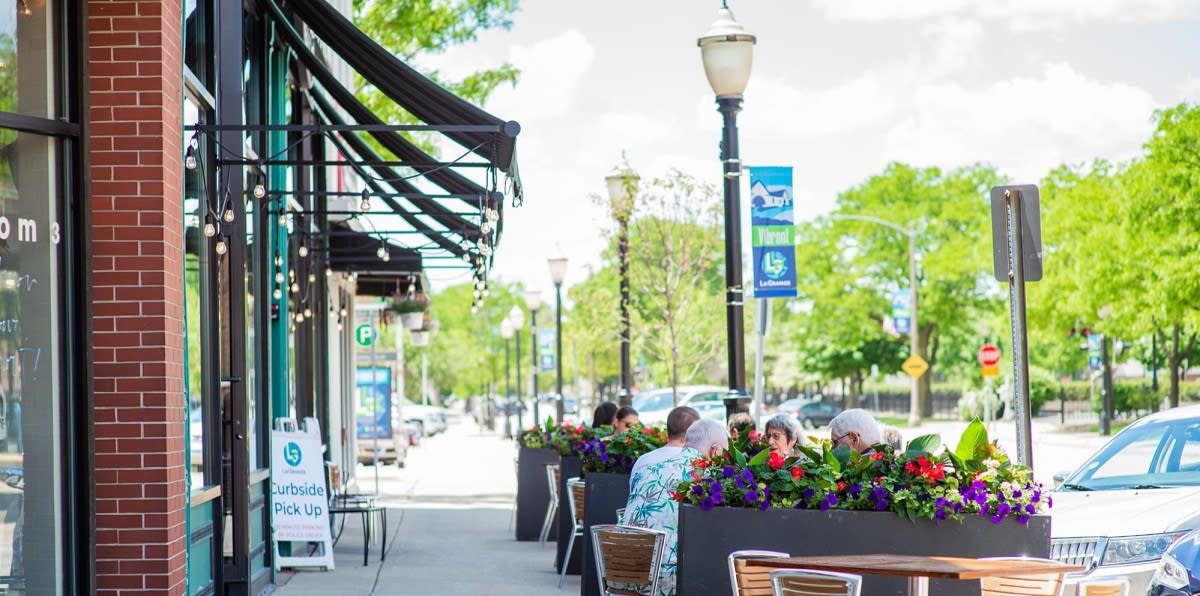 Credit: Village of La Grange

Located just west of Chicago, La Grange is known as one of the area's most desirable suburbs and one of the best places in Illinois to raise a family. Public schools in La Grange are highly rated, including Lyons Township High School, which offers over one hundred extracurricular activities from sports teams to marching bands to academic organizations. La Grange's downtown area is filled with restaurants and retailers, including Trader Joe's, Walgreens, and various coffee shops, cafes, and sit-down eateries.

La Grange is known as a fantastic community hub with lots of great events that bring everyone together. Residents love attending the Farmer's Market and West End Arts Festival, and the Pet Parade, Halloween Walk, and Endless Summerfest are popular La Grange traditions. Each winter, residents and visitors stroll the downtown streets admiring festive lights during Hometown Holidays; kids will love meeting Santa Claus in the West End!
Elmhurst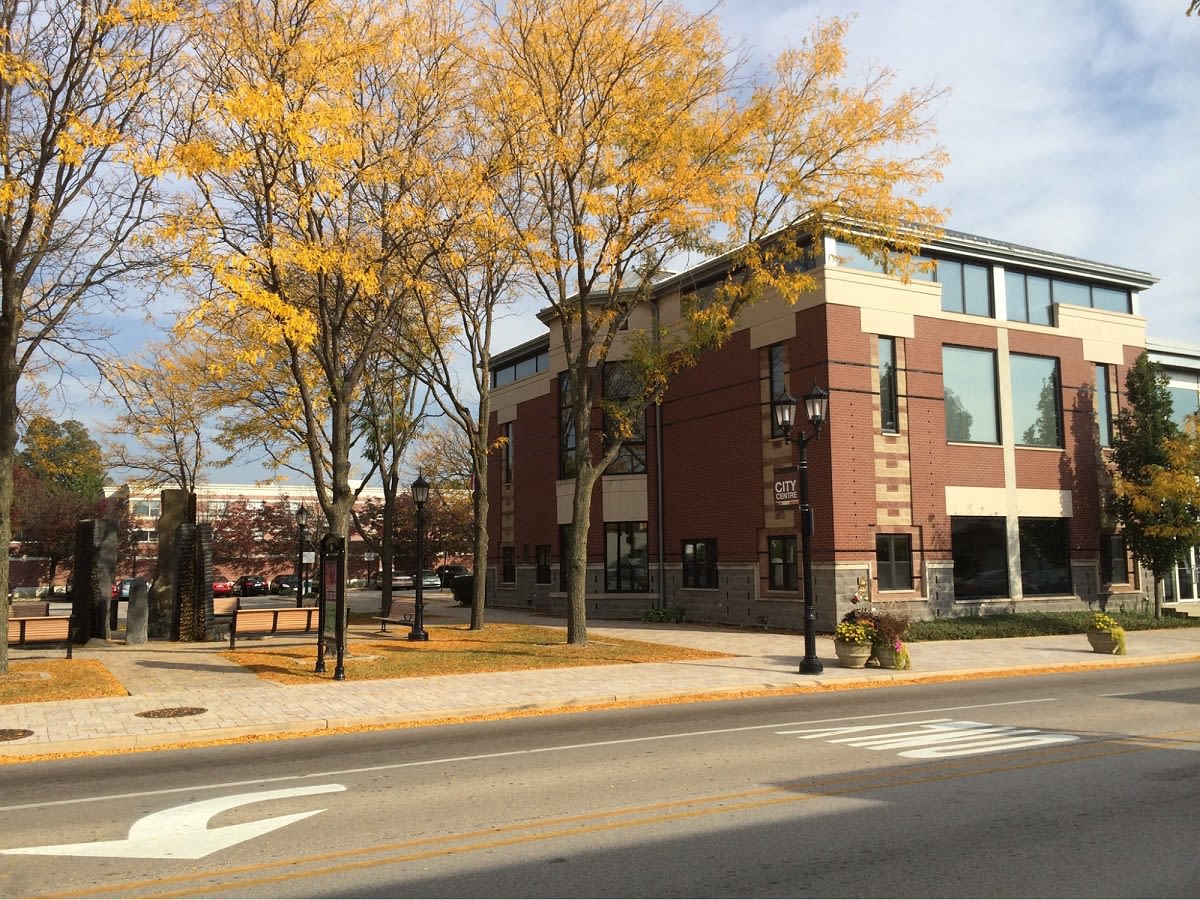 Credit: City of Elmhurst
If you want a genuine sense of community, look no further than Elmhurst. Many people move to this bustling suburb because it's family-oriented, packed with recreational activities and shopping centers, and proven to be a safe neighborhood. Not to mention that it's a great place to live if you're a jet setter, with O'Hare International Airport and Chicago Midway International Airport both under a 30-minute drive away. With a small-town vibe that's well-developed, you'll still get a city feel in Elmhurst, and if you're ever craving a bit of city life, it's a short drive to reach downtown Chicago.

The median age in Elmhurst is a little higher than Carol Stream, rounding out at around 40 years old. This also means the median wage for home buyers is slightly higher, primarily due to the proximity to downtown. In addition to family-oriented households, many college students reside in the town, as they attend the four-year, private, liberal arts Elmhurst University.

Speaking of arts and culture, if you're big into theatre and performances, the Theatre Historical Society of America is another reason to move to Elmhurst, where you can enjoy ballet and opera. Elmhurst is the perfect place to settle down. This community is close enough to the city to still experience all its wonders while getting all the perks of living in a suburb.
Glen Ellyn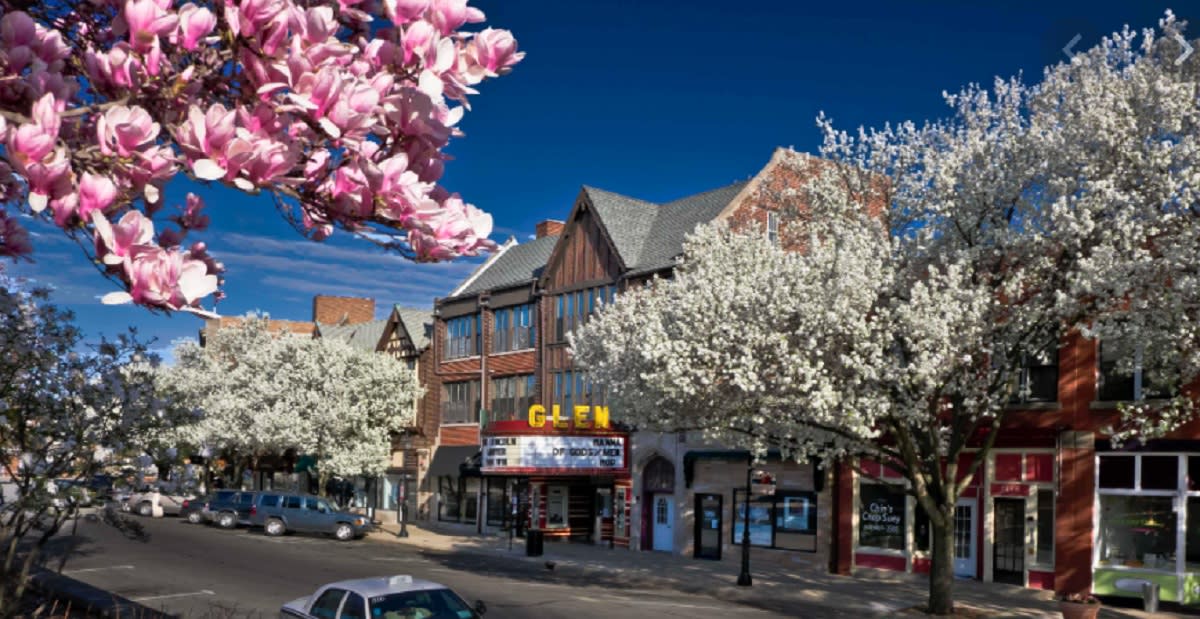 Source: discoverdupage.com - Glen Ellyn

The gorgeous waters of Lake Ellyn, tree-lined streets, a vibrant downtown, and parklands all create the marvelous Glen Ellyn. This suburb is truly a wonderful place to live, with a great atmosphere and even better neighbors. Create a vibrant life for you and your family in Glen Ellyn, which has kept its rural character and charm. The village does an incredible job preserving its rich history, as seen with Stacy's Tavern at the Glen Ellyn Historical Society. It's been turned into a museum that allows everyone to step back in time to 1830, so this attraction and town are perfect for history buffs.

With a median age of residents in the high 30s, couples and families will step into a welcoming community. There's an excellent school system in Glen Ellyn with both public and private institutions, as well as the College of DuPage. If you're looking for a community with a great park system, the Glen Ellyn Park District will have everything you need and more. It features an outdoor aquatic facility, four recreation buildings, 23 parks, and two lakes. The Park District also launches a couple of seasonal events, such as the Taste of Glen Ellyn and fireworks for the Fourth of July. Glen Ellyn has a tremendous small-town charm and friendly community, and with a lake in your backyard, living in Glen Ellyn is a steal.
Hinsdale

Moving away from downtown Chicago is made easier with this charming, family-friendly town. Rows upon rows of streets are sheltered with massive trees, there's a quiet kind of elegance, and the fast-progressing downtown invites even the most hesitant city-dweller to the suburbs.

You'll never feel like you're giving up the city life you love when you're a short commute from work and friends or when new restaurants and stores are popping up in Hinsdale every month. Everyone is warm and friendly, which makes it infinitely easier to meet people and enjoy new company.

The median age in Hinsdale settles into the early 40s, with many starting families and advancing their remarkable careers. Due to this, the house prices in Hinsdale are on the higher side of available suburbs in the Chicago area, with gracious homes and sprawling lawns. There are also quite a few retirees living in this area, for its quaint nature and historic downtown center.

Downtown Hinsdale is actually on the National Register of Historic Districts with various restaurants, shops, and train stations. In fact, there are three railway stations serviced by the Burlington Northern Railway System—and one that's a 22-minute right to downtown Chicago. Hinsdale has so much to offer, from an easy work commute to historic downtown. Families and retirees alike can enjoy this beautiful town, and after a while, you'll never want to leave.
Wheaton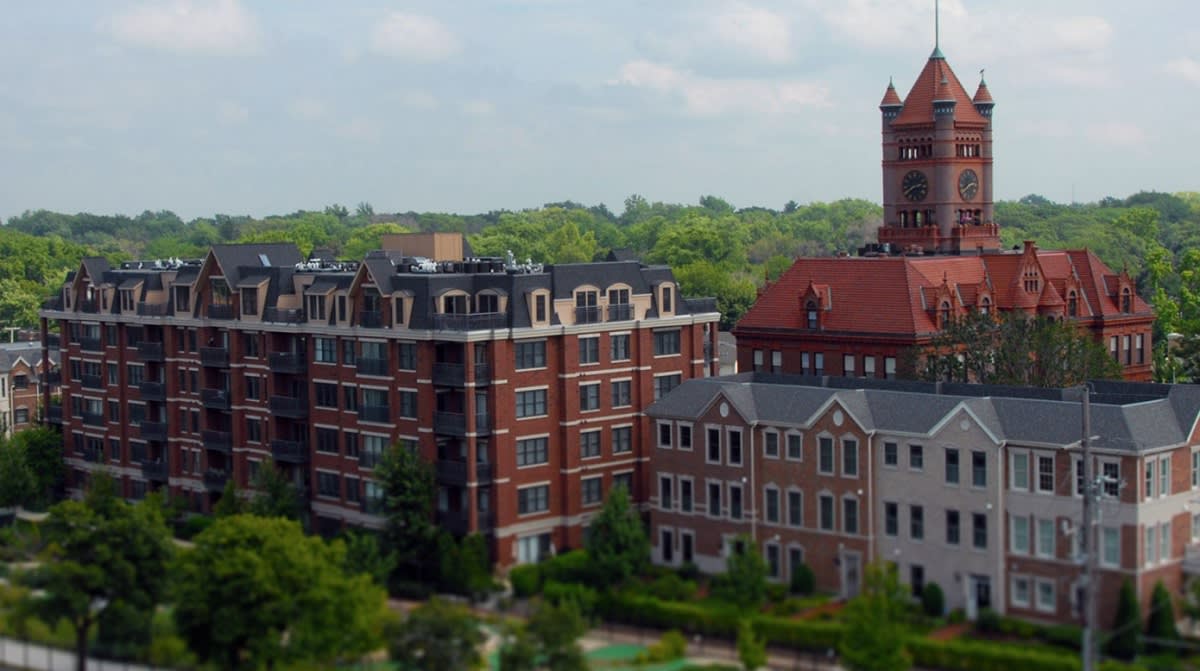 Source: wheaton.il.us

If a small-town charm has been on your house-hunting bucket list, Wheaton is one of the calmer suburbs in the Chicago area. It's composed of wonderful individuals who are kind and welcoming, and you'll feel a strong sense of community within weeks of moving to this quaint village.

Get to know your fellow Wheaton citizens as you peruse the downtown area, where there are tons of local restaurants, family-owned shops, and chic boutiques. You can also participate in multiple events throughout the year, such as the Wheaton Art Walk, Summer Wine Walk, Wheaton French Market, and Taste of Wheaton.

Wheaton is mostly home to young professionals and newly married couples, with families not as prevalent as some of the other Chicago suburbs listed above. However, that doesn't mean there isn't a wonderful family-friendly community waiting with open arms for newer residents. Plus, there's a great school district with over ten private schools and 20 public schools. Wheaton is also home to Wheaton College, an elite liberal arts school, and the Daniel F. and Ada L. Rice Campus of the Illinois Institution of Technology. Wheaton is a great place to leave the city for and create your perfect lifestyle.
Ready to entirely leave downtown Chicago behind and start a new chapter in your life? Perhaps you still want to enjoy the city while getting all the perks of a suburban lifestyle? In the surrounding Chicago area, there are so many suburbs to make your new home.

With short commutes to the city, unique communities, and welcoming neighbors, it's easier than you might think to find a great home without compromising what you want in your life. From single professionals to families, embark on a new journey and get the home you've always wanted.

Are you looking to move out of the Windy City and into a charming suburb in the Chicago area? Mike Wolson and his team would be thrilled to help you on this next venture in your life. To get started on finding your dream home, contact Mike Wolson today.